Education by Daktik.
Its biggest part of this web site is "Fizykon" - an online handbook for Physics - including explanations, graphics, equations, articles, tests, and presentations. Today (April 2004) Fizykon holds over 1000 files (5 MB), is visited by about 1000 users per day, and has a good reputation.

Typical Fizykon users are students and teachers, but there are some people who simply search for information needed in their work and life - journalists, translators, enthusiasts of science and others.
There are two smaller online books on the Daktik website:
| | |
| --- | --- |
| | Manual for digital photo users (including gallery) |
| | A series of articles with MS Windows tips. |
Other stuff on the Daktik Website:
The second important part of the site contains various kind of creative work done by Michal Dyszynski (site author). It includes: poetry, music (in mp3 files), essays and stories.
Because all the texts are written in Polish, the descriptions only provide information about the music, otherwise I think there would be a problem with understanding.

The music is played on a classical guitar, sometimes with vocal.

Here is a list of the pieces:
1. Improvisations (composition and performance - site author - Michal Dyszynski)
3. Songs performed with vocal:
| | |
| --- | --- |
| | Krążą liście miedziane i złote "Coppery and golden leaves swirling" - a very romantic song about nature and love. The lyrics are by Russian poet Sergiusz Jesienin. Unfortunately, I have no information about the composer of the music. |
| | Płomienie "The flames" - A Polish scout song about a campfire. Lyrics by the famous Polish poet Jonasz Kofta, music by Marcin Swiecicki. |
| | Chcę być Twoim kotem "I want to be your cat" - this is my song (Michal Dyszynski) - my lyrics, my music and my performance. |
| | Turystyczna_piosenka_dla_kota - "Tourist song for my cat" (mp3, 2.4MB) - this is my second song (Michal Dyszynski) - my lyrics, my music, and my performance. |
4. Other
| | |
| --- | --- |
| | "Romance" - very famous guitar composition (I know a several authors assigned to this piece - Sarasate, Gomez and even Mr. "Traditional"). |
Technology
This site is hosted on the Apache web server. HTML, CSS and JavaScript are the main languages used to create this website.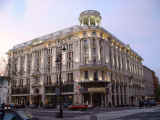 Tools
Site is developed using MS Front Page 2000, MS Word 2000, Corel Photo Paint, Corel Draw and some other utility programs.
Who made it?
This whole site has been developed by Michal Dyszynski - especially:
| | |
| --- | --- |
| | All site ideas, texts, |
| | Explanations |
| | Stories |
| | Pictures (there are few exception) |
| | Animations |
| | Musical performances |
| | Songs |
| | Webmastering |
More about this site and author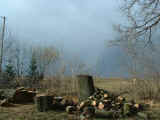 My name is Michal Dyszynski. I'm 42 years old.
From educational point of view I am polish physicist and teacher (teacher with more than 10-year school experience). Actually my jobs have been more varied - I have worked as a translator, programmer, journalist, and an editor.

My hobbies: mind and understanding, education, physics, mathematics, logic, chess playing, music (especially classical music) and others. I love nature - especially mountains, forests, and lakes. I'm also interested in IT technology, science and economy.
My poetry
Here is a translation of one of my poems, by Sister-In-Law. I hope that in the future there will be more...
A FANATIC
He comes to you and says:
regardless of what you think
what you want
what you believe in
you must be JUST LIKE HIM.
Regardless of what
you respect
what you love
what you understand,
he will only accept you
when you have become
JUST LIKE HIM.
Regardless of what you have gathered
on the road of your life
or whether you are even able to adopt his vision,
you have only one option:
to become JUST LIKE HIM.
He does not search for understanding.
After all there is only one truth:
the truth AS ANNOUNCED BY HIM
or
AS ANNOUNCED BY OTHERS LIKE HIM.
He hates individuality
and objective, independent thinking scares him.
He categorizes it as a symbol
of the corruption of the World.
He is the product of arrogance
which makes him believe that
with the help of a few simple phrases
a few words
and emotions
one can obtain the key
to the endless Universe,
the key to something unimaginably perfect
in its beautiful complexity
glittering with millions of colours
dimensions
ideas.
In fact
he respects no one,
other than as an empty vessel
a mindless crock
which must be programmed
WITH THE ONE AND ONLY VISION.
Although he sometimes will put on a cloak of
friendliness and acceptance,
his lie is soon apparent.
His ossified mind
cannot cease to tread
the same old rut of familiar ideas
and known desires.
If ever he meets another like himself
a fanatic
but sufficiently different
then…
there is no choice:
one of them has to be humiliated
or die.
One of them, or the other
sometimes both…
He is worthy of pity
maybe even of contempt.
But anybody
who cannot this contempt resist
steps onto the same path
the fanatic has walked
for years.
Translated by Sister-In-Law.
Michal Dyszynski